Here is a picture of a friend and co-worker wearing one of my necklaces made of Knotted Chain Mail. The details of the necklace: 58 grams of fine silver wire, 0.030" in diameter, tied in 90 separate knots of three distinct sizes, all soldered closed after interlinking. (Here's another one, just finished in early 2005.)
I've been asked to put up a little more detail on the necklace, specifically the clasp I used in back. Here it is:
The same pattern can be worn as a choker, as shown in this picture. The model attended DragonCon 2004, and makes a lovely Princess Leia.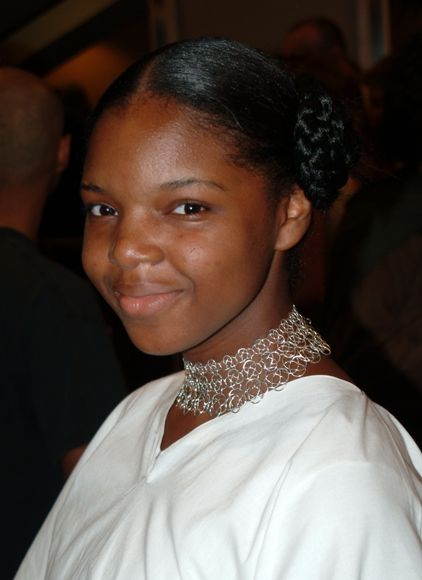 I just finished a pair of earrings to go with the above necklace. You might notice that the knots are mirror images -- that's just an aspect of my particular form of madness, where I like to put in things that don't matter to anyone other than me. Left handed knots, right handed knots, left earring, right earring. I just like doing stuff like this.

The smaller knots need to be made with thicker wire, I think.
| | |
| --- | --- |
| When I'm at a convention and don't have other things on my mind, I sometimes let someone play with my tools -- I let this girl use the Knotted Chain-mail fixture and tools to create a pair of earrings for herself, and then I took this picture to show them off: | |